Work has started to complete the restoration and recovery of building 4, currently not occupied for years and in dilapidated conditions. 
📅 The process for the works began in 2006 and a first lot (east and north) was built between the years 2013 and 2015, allocating it to offices, warehouses and laboratories of the road section.
With the participation in ministerial tenders for the university building of the MUR, we now proceed to the completion of the work, which will become the headquarters of the Department of Civil and Environmental Engineering (DICA): the spaces will be used to house departmental offices and research laboratories mainly of the Environmental Section of the Department. 
⌛A bit of history
Building 4 was built in 1927, with a large classroom with vertical development (steps), converted to horizontal development (flat) in the 80s.
It housed the steam boilers, which fed the heating systems of the entire campus. The thermal power plant was de-abandoned, but the chimney of the boilers with the water tank located at 20 meters high remained.
It had two internal courtyards, one that of the chimney and a further one to the north, closed in 1989 to be used as offices. In the 50s, building 4A was added with hydraulics laboratories and a mezzanine. The building's laboratories feature a steel overhead crane.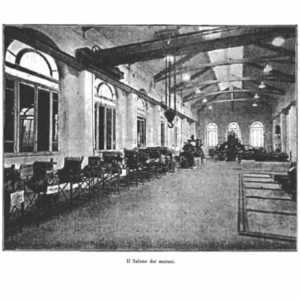 🏗️ The Project
The works aim at the conservative restoration of the facades and the formal and architectural recovery of the building. The works aim to contain energy consumption, improve acoustic and luminous "comfort" and accessibility of spaces;  including cooling and air conditioning systems, a functional redistribution of spaces, the compliance of the building from a structural point of view (anti-seismic), fire prevention and accident prevention.
The building will be restored to its original configuration, removing added bodies and reopening the further north court, with the complete demolition of the body that had been built there. A new mezzanine floor of the first floor will be completed, creating new vertical connections, new toilets and replacing the roofs, as can be seen in these most recent photos:
👣 Project Process
The project, divided into 2 lots, followed a complex process for the first.
Starting to be prepared in 2006, there is then an approval of the Superintendence of the preliminary project in 2008, the opinion of conformity in derogation by the VV.F. of the fire prevention project in 2011, arriving at the approval of the executive project relating to the restructuring of the first lot by the Superintendence in 2012. This is for the first lot, the realization of which ended in 2015. 
Now finally, in 2021, it is completed by starting the realization of the project.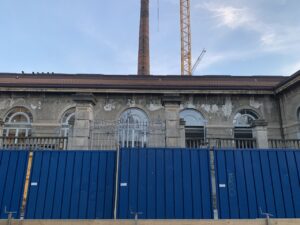 For more questions or curiosity, do not hesitate to write to us!